Tornadoes Strike Massachusetts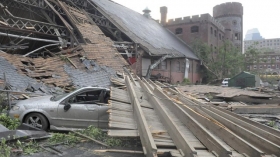 In one of the state's most bizarre weather events, Massachusetts was hit by several tornadoes yesterday, causing destruction, injuries, and the deaths of at least four people. The tornadoes occurred in several towns in the Springfield area including Westfield, West Springfield, Wilbraham, Sturbridge, Monson, Oxford, Charlton, Agawam, Brimfield, and Douglas. Massachusetts residents have been shocked by the extensive damage left in their wake.
Tornadoes are not at all typical to the New England region. They usually occur in the Midwestern part of the country and the Great Plains. Most recently, the town of Joplin, Missouri had been devastated by an enormous twister. The ones which hit Massachusetts were very weak in comparison, but the people did not see it coming.
Massachusetts Governor Deval Patrick announced a State of Emergency, and said the National Guard would be fully deployed by today, with 1,000 guardsmen on duty. He urged people to call 2-1-1 to receive non-emergency information and to check on their neighbors to make sure everyone is ok. He said shelters would be set up once the state has a better understanding of how many people have been displaced from their homes. Schools in the 19 affected communities are to be shut down today.
In Springfield, State Police Col. Marian McGovern reported looting after the first two tornadoes hit the town. Trees were snapped and cars were flipped over around the town. Some people were trapped inside their homes after the debris had settled. Emergency crews were working all night to ensure everybody's safety.
Springfield, western Massachusetts' largest city, has been severely damaged and will require much work to rebuild. Roofs have been blown off, sidings have been ripped off, and fallen trees and telephone poles litter the streets and yards. Nearly 50,000 people are without power.
Much like the situation in Joplin, MO, the federal government is stepping in to help the situation. Senator John Kerry, calling the rare twisters a "once in 100 years" event, announced that FEMA was being deployed to the affected area.
For more information: http://www.boston.com/news/nation/articles/2011/06/02/tornadoes_barrel_through_mass_4_people_dead/
Photo credit: http://abcnews.go.com/US/massachusetts-tornadoes-dead-springfield-westfield-hard-hit/story?id=13737522