The Arctic is getting more militarized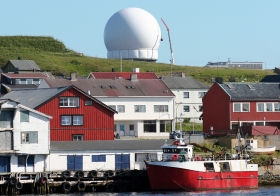 Norwegian and Russian energy relations might be put at risk when it comes to the exploration and acquisition of untapped energy resources in the Arctic with both countries increasing their militarisation in the area, according toStratfor an Austin, Texas-based global intelligence company providing geopolitical analysis and commentary.
"Norwegian Defence Minister Espen Barth Eide indicated March 28 that the Norwegian army 2nd Battalion would be renamed the "Arctic Battalion" and equipped to patrol the country's Arctic territory. The battalion, a mechanised infantry unit based in the northern county of Troms, will be supplied with snowmobiles and other light vehicles for the task.
The move is a response to a similar drive for Arctic militarisation by Russia, Norway's Arctic neighbour. The Arctic, which is estimated to hold vast untapped oil and natural gas reserves, has become more relevant to geopolitics over the past decade. With recent technological advancements and oil and natural gas fields further south drying up, Norway and Russia have been highlighting their territorial claims in preparation for potential mineral extraction.
Competition in the Arctic will strain the countries' relationship, though a hard break in relations is unlikely as long as both benefit from bilateral cooperation, such as between their state energy companies, Statoil and Gazprom. However, Norway will work to contain Russia's influence in the Arctic by strengthening its military partnerships with other countries in the region.
Photo shows The inflatable dome of the well-known radar in Vardø, Northern Norway, near the Russian border via Shutterstock.
Article continues at Euractiv.