The Inside Scoop On 5 Kinds Of Crazy Weather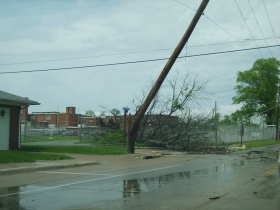 Most of us had never heard the term "derecho" until Friday, when we learned that's what meteorologists call the kind of massive storm that swept through the Midwest and blitzed the Eastern Seaboard, killing at least 20 people and leaving a 700-mile swath of destruction and downed power lines in its wake.
That got us thinking about other unusual or poorly understood weather phenomena that are lurking out there to catch us by surprise. So we put together a quick primer (and the National Oceanic and Atmospheric Administration has a few other examples here).
Derecho: We'll start with the weather word of the moment. Pronounced deh-RAY-cho, it's a large-scale, fast-moving and long-lived storm system that produces powerful "straight line" winds that can cause considerable damage. The popular nickname is "land hurricane," because winds can be as strong as in a Category 1 hurricane — 74 miles an hour or higher. Derechos typically occur in the summer months and are spawned by high temperatures, such as the prolonged heat wave that has blanketed much of the United States in recent days.
Here's how Jeff Masters, director of meteorology for the weather website Wunderground.com, described Friday's derecho: "We had over 30 thunderstorms with wind gusts of 80 miles per hour. ... It's kind of the equivalent to having 30-plus weak tornadoes on the ground."
Derecho, by the way, is the Spanish word for "straight."
Article continues at NPR Topics: Environment
Derecho Damage image via Shutterstock