Have Carbon Emissions Passed an Important Threshold?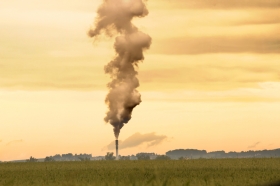 The annual rate of reduction of carbon emissions per unit of GDP needed to limit global warming to 2ºC, has passed a critical threshold according to new analysis from PwC.
And the report's author warn the rate of reduction now required has never been achieved before and add: "This isn't about shock tactics, it's simple maths."

The analysis in the PwC Low Carbon Economy Index, measuring developed and emerging economies progress towards reducing emissions linked to economic output. It demonstrates that at current rates of emissions growth at least 6ºC degrees of warming could be possible by the end of the century.

The report shows that while the increase in emissions intensity in 2010 has been reversed, with only a 0.7% reduction globally in 2011, it's a fraction what is required against the international commitment to limit global warming to 2ºC.
To limit global warming to 2ºC would now mean reducing global carbon intensity by an average of 5.1% a year,  a performance never achieved since 1950, when these records began.
The report warns that "governments and businesses can no longer assume that a 2ºC warming world is the default scenario." It adds that any investments in long term assets or infrastructure, particularly in coastal or low-lying regions need to address far more pessimistic scenarios.
Factory smoke stack via Shutterstock.
Read more at ENN Affiliate ClickGreen.