Shrubs help assess history of Glaciers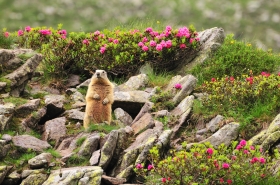 The stems of shrubs have given researchers a window into a glacier's past, potentially allowing them to more accurately assess how they're set to change in the future.
Their findings have been published today, 27 November, in IOP Publishing's journal Environmental Research Letters, and show how a glacier's history of melting can be extended way past the instrumental record.

Much like the rings on a tree stump indicate how old it is, measuring the width of rings on the stem of a shrub can give a good indication of how well it has grown year on year. Under extreme environmental conditions, such as those close to a glacier, a shrub's growth relies heavily on summer temperatures, meaning the ring-width of a shrub can be used a proxy for glacial melting, which also relies heavily on summer temperatures.
Lead author of the study, Allan Buras, said: "In warm summers, shrubs grow more compared to cold summers. In contrast, a glacier's summer mass balance is more negative in warm summers, meaning there is more melting compared to cold summers.
"Big rings in shrubs therefore indicate comparably warm summers, and thus a strongly negative summer mass balance – in other words, more melting."
The researchers, from the University of Greifswald, tested this theory on a local icecap in the Scandic Mountains of southern Norway. They took 24 samples of shrubs from a site close to the glacier and analysed their ring-widths.
Monthly precipitation and temperature data from a local climate station were retrieved from the Norwegian Meteorological Office, and the summer mass balance of the glacier, from 1963 to 2010, was retrieved from the existing literature.
Each of these data sets was then statistically tested to see if there was a correlation between them. The results showed a robust and reliable correlation between the ring-width of shrubs and the summer melting of the glacier.
Photo of Marmot in Alpine Rhododendrons via Shutterstock.
Read more at EurekAlert.