Two Arctic Ice Seals Gain Endangered Species Act Protection - Warming Climate a Key Factor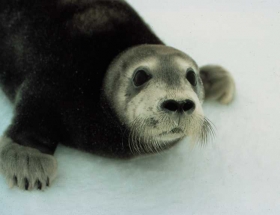 Responding to a 2008 petition from the Center for Biological Diversity, the federal government today finalized Endangered Species Act protection for two ice-dependent Arctic seals threatened by melting sea ice and snowpack due to climate change. Ringed seals and bearded seals, found in the waters off Alaska, are the first species since polar bears to be protected primarily because of climate change threats.
"Arctic animals face a clear danger of extinction from climate change," said Shaye Wolf, the Center's climate science director. "The Endangered Species Act offers strong protections for these seals, but we can't save the Arctic ecosystem without confronting the broader climate crisis. The Obama administration has to take decisive action, right now, against greenhouse gas pollution to preserve a world filled with ice seals, walruses and polar bears."
Ringed seals give birth and nurse their pups in snow caves built on sea ice. Global warming is reducing the amount of snowpack on the ice, causing snow caves to collapse and leaving pups vulnerable to death from freezing temperatures and predators. Bearded seals, named for their distinctively thick whiskers, give birth and nurse their pups on pack ice over shallow waters where their bottom-dwelling food is abundant. The rapid loss of pack ice jeopardizes their ability to raise their young and find food.
This summer Arctic sea-ice extent hit a troubling new record low, falling to half its average size. At that pace summer sea ice across the Arctic is likely to disappear entirely in the next 10 to 20 years, while the seals' winter sea-ice habitat in the Bering Sea off Alaska is projected to decline at least 40 percent by 2050. Meanwhile oil giant Shell has launched an aggressive offshore drilling program in the seals' home, which heightens the threat of oil spills. Shell became the first company to begin drilling for oil in Alaska's Chukchi Sea in more than 20 years.
Bearded Seal pup photo credit courtesy NOAA.
Read more at Center for Biological Diversity.