Severe Weather in the Middle East - Another Result of a Changing Climate?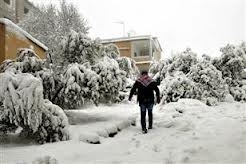 Severe weather is pummeling the Middle East. Latest reports puts the death toll at dozens. I'm fresh back from a trip to my family's two homesteads: the USA, where we toured New Jersey's hurricane-battered shoreline, and the UK, where new lakes of rainwater cover Cotswolds' fields and the British Meteorological Office declared the highest annual precipitation since they began keeping records. An exceptional spate of extreme weather events? Or is this climate change? (I'll duck under my keyboard so comment-hurling can commence).
Bad weather's no stranger to those places, but the Mid East dressed up in alpine weather? Surreal.

Early this week, the Greater Amman Municipality announced a moderate state of emergency in the capital to deal with predicted severe weather conditions. Yesterday, the Prime Minister issued a directive closing all government and public offices; most schools had already issued pre-emptive shut-downs.
In northern Jordan, relief workers were injured in a human stampede at a Syrian refugee camp where hundreds of tents have been destroyed by the rains, according to a report in the Irish Journal.
Anmar Hmud, a government spokesman for refugee affairs, told reporters, "Refugees started to push each other as they ran towards aid workers. They hurled stones at each other and there was a stampede, which hurt some aid workers." The incident occurred at the Zaatari camp on the Syrian border, where two days of heavy rains have destroyed hundreds of tents. Over 60,000 refugees live in that camp.
Photo shows winter scene in Syriah, via MSNBC.
Read more at Green Prophet.