US Greenhouse Gas Emissions Slightly Decreased in 2012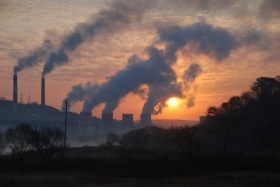 Climate change is making the news for a number of reasons, including Showtime's new series called "Years of Living Dangerously." The rise in greenhouse gas emissions is responsible for climate change, and the majority of scientists agree that most of the increase is caused by human activity.
That said, there is a bit of good news when it comes to U.S. GHG emissions. The Los Angeles Times reports that greenhouse gas emissions in the U.S. decreased by 3.4 percent from 2011 to 2012. The report is based on the EPA's recently released inventory, which cites "multiple factors" for the decrease in emissions — including reduced emissions from electricity generation, fuel efficiency in vehicles, a decrease in the price of natural gas and reductions in miles traveled. Greenhouse gases in 2012, according to the inventory, were 10 percent below 2005 levels. Since 1990, U.S. emissions have increased at an average annual rate of 0.2 percent.
U.S. GHG emissions in 2012 totaled 6,526 million metric tons of carbon equivalent. Carbon dioxide accounted for most (82.5 percent) of all GHG emissions. The largest source of carbon emissions was fossil fuel combustion. Methane accounted for 9 percent of the emissions, while nitrous oxide accounted for 6 percent and fluorinated gases accounted for 3 percent. Methane emissions decreased by 10.8 percent since 1990. Most methane emissions came from domestic livestock, natural gas systems and wastes breaking down in landfills.
Data on GHG emissions from the Energy Information Administration (EIA), released earlier this year, is not entirely positive like the EPA's data. Once all data is in, energy-related carbon emissions in 2013 are expected to be more than 2 percent above the 2012 level. The EIA attributes the small increase to "coal consumption in the electric power sector," pointing out that coal has "regained some market share from natural gas since a low in April 2012." However, there is some good news. Emissions in 2013 are slightly more than 10 percent below 2005, according to EIA data. The EIA characterizes the decrease as "a significant contribution towards the goal of a 17 percent reduction in emissions from the 2005 level by 2020 that was adopted by the current administration." The EIA data shows more good news. Carbon emissions from energy activities decreased four out of six years since peaking in 2007, and in 2012 they were "historically low."
Continue reading at ENN affiliate, Triple Pundit.
Air pollution image via Shutterstock.