How much methane IS leaking at Porter Ranch?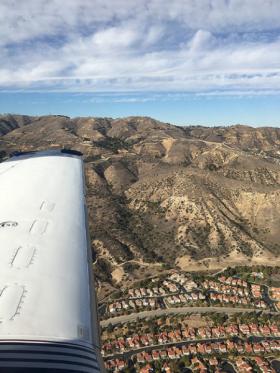 A UC Davis scientist flying in a pollution-detecting airplane provided the first, and so far only, estimates of methane emissions spewing from the Aliso Canyon Natural Gas Storage Facility in Southern California since the leak began on Oct. 23, 2015.
Those estimates were provided to the California Air Resources Board in November. Pilot and UC Davis project scientist Stephen Conley continues to measure emissions from the still uncontrolled leak, which has displaced thousands of residents in the affluent Porter Ranch neighborhood in northern Los Angeles. On Jan. 6, Gov. Jerry Brown declared a state of emergency in the community.
To date, Conley estimates that the leak has emitted nearly 80,000 tons of methane, or about 1,000 tons per day.
'This is big'
In early November, Conley took his first three flights downwind of the facility in his specialized airplane. He was astounded by the figure he recorded: Roughly 1,200 tons of leaked methane per day, or more than 100,000 pounds an hour.
"To put this into perspective, the leak effectively doubles the emission rate for the entire Los Angeles Basin," Conley said. "On a global scale, this is big."
The California Energy Commission contracted with Conley to do the initial flights under an existing contract with UC Davis. The airplane belongs to Conley through his private business, Scientific Aviation, a research flight company.
Those flights took place Nov. 7 and Nov. 10. Emissions were mapped from as low as 200 feet above the ground to the top of the methane plume.
Aerial image of Aliso Canyon natural gas storage facility shot by UC Davis scientist Stephen Conley from his research airplane, which provided the first and, so far, only estimates of methane emissions from an ongoing leak at the facility in the San Fernando Valley. Credit: Stephen Conley/UC Davis photo
Read more at ScienceDaily.