Saharan dust in the wind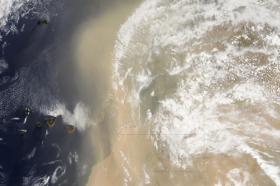 Every year, trade winds over the Sahara Desert sweep up huge plumes of mineral dust, transporting hundreds of teragrams — enough to fill 10 million dump trucks — across North Africa and over the Atlantic Ocean. This dust can be blown for thousands of kilometers and settle in places as far away as Florida and the Bahamas.
The Sahara is the largest source of windblown dust to the Earth's atmosphere. But researchers from MIT, Yale University, and elsewhere now report that the African plume was far less dusty between 5,000 and 11,000 years ago, containing only half the amount of dust that is transported today.
In a paper published today in Science Advances, the researchers have reconstructed the African dust plume over the last 23,000 years and observed a dramatic reduction in dust beginning around 11,000 years ago. They say this weakened plume may have allowed more sunlight to reach the ocean, increasing its temperature by 0.15 degrees Celsius — a small but significant spike that likely helped whip up monsoons over North Africa, where climate at the time was far more temperate and hospitable than it is today.
"In the tropical ocean, fractions of a degree can cause big differences in precipitation patterns and winds," says co-author David McGee, the Kerr-McGee Career Development Assistant Professor in MIT's Department of Earth, Atmospheric and Planetary Sciences. "It does seem like dust variations may have large enough effects that it's important to know how big those impacts were in past and future climates."
Continue reading at the MIT
Image courtesy MODIS Rapid Response Team/Goddard Space Flight Center/NASA