NASA Sees Storms Affecting the Western U.S.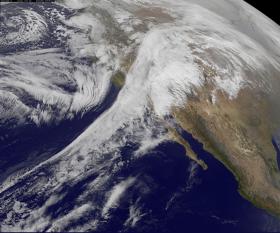 Extreme rain events have been affecting California and snow has blanketed the Pacific Northwest. NASA/NOAA's GOES Project created a satellite animation showing the storms affecting the region from January 6 through 9, 2017, and NASA's Aqua satellite captured a look at the snowfall.
At NASA's Goddard Space Flight Center in Greenbelt, Maryland, an animation of visible and infrared imagery from NOAA's GOES-West satellite showed a series of moisture-laden storms affecting California from Jan. 6 through Jan. 9, 2017. NOAA manages the GOES series of satellites and the NASA/NOAA GOES Project uses the satellite data to create animations and images. The animation shows a stream of storms affecting the U.S. West coast over that period, as a low pressure area center churned off of Canada's west coast.
On January 9, another area of low pressure moved over Oregon, where the National Weather Service is forecasting heavy snows. The Eastern Douglas County Foothills, south central and southern Oregon Cascades, and Siskiyou Mountains were all under a Winter Storm Warning that calls for "6 to 10 inches possible above 3,000 feet and 1 to 2 feet possible above 5,000 feet."
Continue reading at NASA / Goddard Space Flight Center
Photo Credit: NASA / NOAA GOES Project