U.S. had 2nd warmest year to date and 10th warmest July on record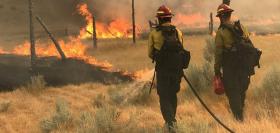 July is the hallmark of summer in the United States. Long days, intense sun and high humidity typically make it the hottest month of the year. The heat can also trigger flash droughts, wildfires and summer storms. This July didn't disappoint.
Here's how July and the year to date fared in terms of the climate record:
Climate by the numbers
July 2017
Last month, the average contiguous U.S. temperature was 75.7 degrees F, 2.1 degrees above the 20th-century average. This was the 10th warmest July in the 123-year period of record, according to scientists from NOAA's National Centers for Environmental Information. Much above-average temperatures were observed across the West and in parts of the Mid-Atlantic and Southeast.
The average precipitation total for July was 2.74 inches, 0.04 inch below the 20th-century average, and ranked near the middle of the record. Above-average precipitation in the Southwest, Midwest, and Northeast offset below-average precipitation in the Northwest and Northern Plains.
Continue reading at NOAA.
Photo via NOAA