Arctic saw 2nd warmest year, smallest winter sea ice coverage on record in 2017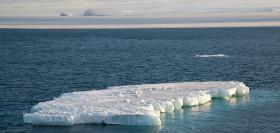 A NOAA-sponsored report shows that the warming trend transforming the Arctic persisted in 2017, resulting in the second warmest air temperatures, above average ocean temperatures, loss of sea ice, and a range of human, ocean and ecosystem effects.
Now in its 12th year, the Arctic Report Card, released today at the annual American Geophysical Union fall meeting in New Orleans, is a peer-reviewed report that brings together the work of 85 scientists from 12 nations.
While 2017 saw fewer records shattered than in 2016, the Arctic shows no sign of returning to the reliably frozen region it was decades ago. Arctic temperatures continue to increase at double the rate of the global temperature increase.
One chapter in the Arctic Report Card shows, using historical data, that the current observed rate of sea ice decline and warming temperatures are higher than at any other time in the last 1,500 years, and likely longer than that.
Continue reading at NOAA (National Oceanic and Atmospheric Administration).
Image via NOAA.