N.Korea Agrees To Disable Nuclear Program In 2007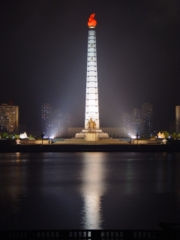 GENEVA - North Korea agreed in weekend talks with the United States to fully account for and disable its nuclear programs by the end of this year, negotiators said on Sunday.
"We had very good, very substantive talks," U.S. Assistant Secretary of State Chris Hill told reporters. "One thing that we agreed on is that (North Korea) will provide a full declaration of all of their nuclear programs and will disable their nuclear programs by the end of this year, 2007."
North Korea's top nuclear envoy said separately his delegation was pleased with the outcome of the talks, held to hasten the end of Pyongyang's nuclear programme, a target agreed to in principle in 2005 in exchange for diplomatic and economic benefits.
"We agreed about many things," Kim Kye-gwan, speaking in Korean, told reporters. "We made it clear, we showed clear willingness to declare and dismantle all nuclear facilities."
Hill said the details of the "very important" agreement would be worked out later this month when six-way negotiations -- which also involve South Korea, China, Russia and Japan -- reconvene with a plenary session hosted by China.
He did not say what the United States offered in return for the North Korean pledge.
But he confirmed the delegations did discuss the terms under which Washington would drop North Korea from its list of state sponsors of terrorism. Being on that list imposes a ban on arms-related sales and keeps the economically isolated Stalinist state from receiving some U.S. aid.
Kim told journalists that North Korea "will receive political and economic compensation" in relation to its declaration and disablement, but gave no details.
The day before the two-day talks began, Washington announced it would offer a significant food aid package to help Pyongyang recover from August floods that killed at least 600 people, made 170,000 homeless and destroyed many croplands.
Progress in the international diplomatic drive to make the Korean peninsula nuclear-free has been slow since 2005.
Following the Geneva meetings, North Korean and Japanese negotiators will meet in Ulaanbaatar, Mongolia, for another bilateral session of talks. A six-party plenary meeting is then expected to be held in mid-September, likely in Beijing.
Hill said the Geneva talks should help the disarmament drive.
"I think we have an expectation that because of this bilateral meeting that we can look forward to a better chance of success at the next six-party plenary," he said. "We need to pick up the pace and get through this phase in 2007."
(Additional reporting by Anne Richardson and Vincent Fribault)
© Reuters 2007. All rights reserved.