Australia gives more money to drought-hit farmers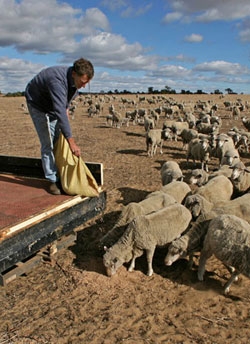 CANBERRA (Reuters) - The Australian government on Tuesday announced an extra A$714 million ($621 million) to help farmers survive a record-breaking drought.
About 65 percent of Australia's viable agricultural land is currently in drought, with 23,000 farming families on some form of drought relief payments.
"They are going through the worst drought on record. They are living, many of them, in quite pitiful conditions," Prime Minister John Howard told reporters on Tuesday.
"A lot of their hope, and that of their families, is draining away. At a time like this, a wealthy nation can afford to be properly generous to its hardworking farmers."
Howard, who is facing a tough election due within weeks, has announced more than A$1 billion in drought aid in the past fortnight, taking government drought support to more than A$3 billion since 2001.
Howard remains well behind in opinion polls and the drought package, which could be the government's last major announcement before the election, should appease rural concerns that their plight is ignored by Canberra and city dwellers, who are enjoying the benefits of a resources-led economic boom.
The extra drought money includes grants of A$150,000 each to help farmers who want to leave the land.
Farmers had hoped early winter rains marked the end of six years of drought, but low rainfall and high temperatures in August have led to low water inflows into the nation's rivers and forced many farmers to abandon hopes of a return of bumper crops.
The extra drought aid came as Australia's New South Wales state cut its forecast wheat crop by 44 percent to 2.26 million tones.
The private group Australia Wheat Forecasters also said Australia's wheat crop could shrink to as little as 12 million tones -- less than half first forecasts of 26 million tones -- if rain does not fall in the next two weeks.
The government's official forecaster, the Australian Bureau of Agriculture and Resource Economics, earlier this month slashed its wheat crop forecast by a third, to 15.5 million tones.
Farm groups welcomed the extra funding on Tuesday, saying the money would help protect the country's agricultural base, particularly in the Murray-Darling river basin, where irrigators face no or little water allocations over the coming summer.
"The desperate situation confronting farm families is unprecedented, and becoming more serious by the day in the wake of failed winter rains," National Farmers' Federation president David Crombie said in a statement.
About 150 farmers, government representatives, councils, affected businesses and community groups attended a drought crisis summit in the central New South Wales town of Parkes on Tuesday, where the government announced the assistance package.
The summit agreed that unmanageable debt, accumulated over years, was the biggest issue facing farmers, summit spokeswoman Kristie Down told Reuters.
"Another year of crop failure has just been the tip of the iceberg," she said.
($1 = A$1.15)