Scientists Get $1 Million To Demonstrate How Restored Prairies Filter Water, Produce Bioenergy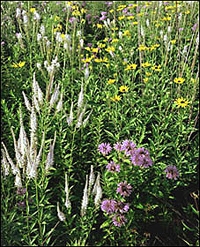 MINNEAPOLIS / ST. PAUL - University of Minnesota researchers Clarence Lehman, John Nieber and David Tilman and colleagues have been awarded a $1.07 million grant to show how restored prairie areas can act as buffers to filter water polluted by agriculture while simultaneously producing bioenergy.

The strategy will also conserve prairies, expand areas available for wildlife habitats, reduce the amount of water needed for biofuels, enhance biodiversity in Minnesota and reduce Minnesota's greenhouse gas emissions by sequestering carbon.

This is a joint research project between the University of Minnesota and the U.S. Geological Survey (USGS). About 60 percent of the funds come from the Minnesota Legislative-Citizen Commission on Minnesota Resources (LCCMR) and about 40 percent from the USGS. The research will be carried out at the University of Minnesota's Cedar Creek research site. The USGS will oversee the hydrological analysis. Work began this summer and will continue through June 2010.


"Water protection, energy production, and habitat conservation are three crucial issues for Minnesota," said Lehman. "This is an innovative strategy to address those issues simultaneously. It should be applicable to neighboring states as well."

Primary university team members include Clarence Lehman, adjunct faculty member in ecology; John Nieber, professor of biosystems and bioproduct engineering; David Tilman, Regents Professor in ecology; Jared Trost, graduate student in water resource science, and Troy Mielke, Cedar Creek research coordinator. Primary USGS team members include James Stark, supervisory hydrologist and Geoff Delin and Kathy Lee, hydrologists.