Chinese ship leaking oil on Great Barrier Reef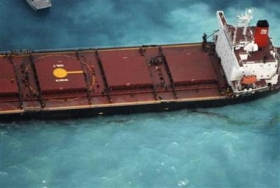 A stranded Chinese bulk coal carrier leaking oil into the sea around Australia's Great Barrier Reef is in danger of breaking up and damaging the reef, government officials said on Sunday.

The 230-meter (754-ft) Shen Neng I was on its way to China when it ran aground on a shoal on Saturday. It had 950 tonnes of oil on board and officials said patches of oil had been spotted in the water early on Sunday, but no major leak.
The premier of Queensland state Anna Bligh said the ship was in a poor state, and posed a danger to the reef.
"The situation remains serious as the extent of the damage means there is a very real risk that the vessel may break apart," Bligh said in a statement. "Every effort is now being made to limit the impact of this incident on the Great Barrier Reef."
Aircraft overflew the vessel early on Sunday, taking photographs and dispersant was to be sprayed later in the day.
The Great Barrier Reef is one of Australia's major tourist attractions and is considered to be highly vulnerable to damage from pollution.
Environmentalists have criticized regulations which do not require a special pilot to guide ships through the tortuous channels in the area. They warned that communities of coral only recently studied by science could be destroyed by a major oil leak.
"It would devastate the local ecosystems in this area," Ian Herbert, vice-chairman of the local Capricorn Conservation Council, told Reuters. "There are corals surrounding some of these islands that are very special."
Photo shows oil next to the 230-metre (754-ft) Chinese bulk coal carrier Shen Neng I, about 70 km (43 miles) east of Great Keppel Island April 4, 2010. 
Article continues: http://www.reuters.com/article/idUSTRE63302920100404