Oil leak closes in on marsh, BP keeps trying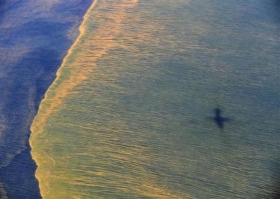 Energy giant BP scrambled on Saturday to make good on its latest attempt to contain oil from a ruptured wellhead in the Gulf of Mexico as the government approved the use of dispersants underwater, at the source of the seabed gusher.

With crude oil pouring unchecked from a blown-out well a mile deep on the floor of the Gulf, London-based BP was struggling to guide robots to insert a narrow tube wrapped in a rubber flange into the 21-inch pipe spewing the oil -- and to funnel that oil to a drill ship at the surface.
"That work is currently underway and we hope to begin operations overnight," BP Chief Operating Officer Doug Suttles told reporters on Friday afternoon.
Seeking new tactics to curb the volume of oil reaching the surface, the U.S. Coast Guard and U.S. Environmental Protection Agency early on Saturday said they had authorized the subsea use of chemical dispersants at the source of the leak.
Dispersants are designed to break the oil into small droplets more likely to sink to the sea floor.
Some environmental groups and the Gulf's shrimping industry have raised concerns about effect of the chemicals, saying the oil might not sink all the way, but become suspended in the water column and ingested by fish and other wildlife.
Article continues: http://www.reuters.com/article/idUSTRE6430AR20100515