BP tries again to contain oil spill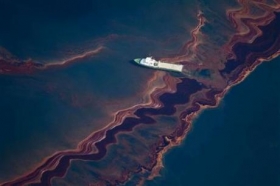 Energy giant BP made a new attempt to siphon gushing oil from an offshore well as political pressure and public outrage increased over the company's slow progress at stopping environmental disaster.

London-based BP Plc admitted on Saturday that its latest attempt to contain the spill had failed but a top executive expressed optimism that the tricky undersea effort to redirect the flow of oil would be operational overnight.

The latest fix involves guiding undersea robots to insert a small tube into a 21-inch (53-cm) pipe, known as a riser, to funnel the oil to a ship at the surface.
Crude oil is gushing unchecked into the sea from a blown-out offshore well a mile deep on the floor of the Gulf of Mexico, threatening an ecological and economic calamity along the U.S. Gulf Coast.
Officials said that so far the spill has had minimal impact on the shoreline and wildlife, but oil debris and tar has begun to wash up on barrier islands and outlying beaches of Louisiana, Alabama and Mississippi.
Scientists and residents of the Gulf Coast say a far greater concern is the anticipated encroachment of oil into the environmentally fragile bayous and marshes teeming with shrimp, oysters, crabs, fish, birds and other wildlife.
Workers in Louisiana expressed outrage at comments by BP Chief Executive Tony Hayward suggesting that the size of the spill was "tiny" compared to the size of the Gulf of Mexico.
"I think he's nuts," said Kenneth Theriot, 56, a shrimp boat owner and captain in the Louisiana town of Chauvin. "I don't care how big the Gulf is. It's all coming here."
Shrimpers and fishermen have been idled by commercial fishing closures imposed because of the spill.
Article continues: http://www.reuters.com/article/idUSTRE6430AR20100516