BP readies "top kill" to try to plug well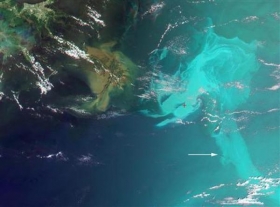 Dogged by delays and intense pressure from the Obama administration, BP Plc faces a pivotal day on Wednesday as it attempts a tricky plan to clog the gushing Gulf of Mexico oil well five weeks into the disaster.

If the "top kill" procedure joins the list of BP failures to plug the leak, U.S. President Barack Obama's government may have no choice but to take central charge of the response to what is considered the worst oil spill in U.S. history.

Obama has told aides in recent days to "plug the damn hole" and he will head to the Louisiana Gulf coast on Friday for the second time since the April 20 rig blast that killed 11 and unleashed the oil.
Despite frustration with BP -- which admitted that it may have made a "fundamental mistake" in working on the rig hours before the explosion -- the government relies almost exclusively on the energy titan's deepwater technology.
Equipped with underwater robots, BP engineers plan on Wednesday to inject heavy drilling fluids into the mile- deep well, a complex maneuver that has never been attempted at such depths.
Before they try to seal the well, they pumped so-called "mud" into the well head on Tuesday to gauge if the well could be damaged at high pressure and augment the leak.
BP gave the plan a 60 percent to 70 percent chance of halting the leak. Industry experts at the Reuters Global Energy Summit said it is "doable" and has a 50-50 percent chance of working, while playing down concerns of a bigger leak.
BP has other options if the top kill fails, including the installation of a new dome and a new blow-out preventer over the old one that failed in the rig explosion.
On the day before the top kill effort, a group of out-of-work charter fishing boat captains gathered in Venice, Louisiana, and tried to be optimistic.
"I hope it works," said Larry Hooper. "... I have very, very big doubts but I hope the hell it does."
Photo is a false-color image created by combining data from Multi-angle Imaging SpectroRadiometer (MISR) instrument aboard NASA's Terra spacecraft shows the oil spill in the Gulf of Mexico in this image captured on May 17, 2010, at around 16:40 UTC (11:40 am CDT). This unique image of the Deepwater Horizon oil slick in the Gulf of Mexico was obtained by combining data from the red band of the 26-degree forward-viewing camera (where the oil appears dark) with the blue and green bands of the nadir (vertical-viewing) camera (where the oil appears bright). The Mississippi River Delta is visible in the upper left portion of the image. The red + symbol represents the former location of the Deepwater Horizon drilling platform.
Credit: REUTERS/NASA/Goddard/Terra / Handout
Article continues: http://www.reuters.com/article/idUSTRE6430AR20100526