"Top Kill" Fails, what now?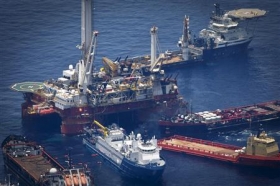 BP Plc's "top kill" oil well plug failed on Saturday, practically killing any optimism among Gulf coast residents that the mammoth spill fouling their coast and fishing industry will end any time soon.
Even U.S. President Barack Obama, hit with a tide of criticism that he is not sufficiently in command of the largest oil spill in U.S. history, has tried to lower expectations of a short-term fix.
U.S. Coast Guard Admiral Mary Landry, standing by as a BP executive told the world that the tricky top kill procedure had failed, said they needed to manage people's expectations better for a crisis soon entering its seventh week.
Rightly so, because Landry believes the best solution to definitively plug the leak in the Gulf of Mexico is a relief well. BP is already drilling one, but it will not be ready for at least two more months.
By that time, it is hard to say how much damage the oil spill will have inflicted on the unique ecosystem of the Gulf coast, coveted for its seafood, fishing and tourism.
It could all be whipped further into marshland by what promises to be the most active Atlantic storm season since 2005, the year of Hurricane Katrina.
Louisianans still recovering from Katrina's devastation had a glimmer of hope that London-based energy giant's top kill procedure would be able to plug the ruptured well one mile under water. But after 72 hours, that came to an end.
Photo shows support vessels surrounding a relief oil well platform near the source of the Deepwater Horizon leak in the Gulf of Mexico off the coast of Louisiana May 29, 2010.  Credit: REUTERS/Lee Celano
Article continues: http://www.reuters.com/article/idUSTRE6430AR20100530