BP to try well kill Tuesday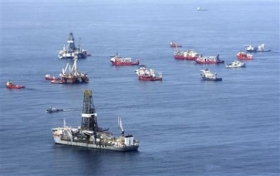 BP Plc said on Friday it could seal its ruptured Gulf of Mexico oil well by next week as the House of Representatives voted to toughen regulation of offshore energy drilling.
Incoming BP Chief Executive Bob Dudley said the British energy giant would attempt a "static kill" operation on Tuesday to try to plug the blown-out deep-sea well that caused the worst offshore oil spill in U.S. history.
This marks a slight delay. The U.S. official overseeing the spill response, retired Coast Guard Admiral Thad Allen, had said on Thursday he hoped the operation to pump mud and cement into the well could be performed as early as this weekend.
As BP moved ahead with its plans, U.S. government scientists said South Florida, the Florida Keys and the U.S. East Coast likely will be spared from oil pollution from the spill despite earlier dire warnings.
The "static kill" process will involve pumping drilling mud and cement into the well from the top to plug it. A relief well is intended to intersect the ruptured well deep under the seabed to allow mud and cement to be pumped from the bottom to provide a permanent fix.
No new oil has leaked since BP installed a tight-fitting containment cap atop the well on July 15 as a temporary fix.
"We want to absolutely kill this well. The static kill will be attempted on Tuesday. The relief well by the end of the month (August)," said Dudley, BP's top executive on the Gulf oil spill who will replace Tony Hayward as CEO on October 1.
Photo shows drill ships and response vessels working in the Gulf of Mexico off the Louisiana coast line while attempting to drill relief wells at the Deepwater Horizon Oil Spill wellhead July 27, 2010.  Credit: REUTERS/Sean Gardner
Article continues: http://www.reuters.com/article/idUSTRE65O5TA20100731