Tanzania's Serengeti Highway plan could destroy major carbon sink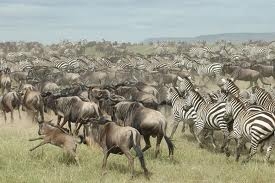 Environmentalists are dismayed at plans by the Tanzanian government to build a major commercial highway through Serengeti National Park
The Tanzanian President has vowed to go ahead with controversial plans to construct a major road through the Serengeti, despite fierce opposition from environmentalists and the tourism industry.
The 480-kilometre road will link the Lake Victoria area with eastern Tanzania and, according to the Tanzanian government, bring essential economic development to the region - linking remote communities to the major road network, allowing transport of people and goods and connecting farmers with markets.
However the project has attracted criticism from environmental groups which fear the effects on the ecosystem could be devastating and may even result in huge releases of carbon into the atmosphere.
The road will bisect the path of the renowned "great migration" of wildebeest and zebra, when each year millions of animals migrate between the Tanzanian Serengeti and Kenyan Masai Mara in search of fresh water sources.
"Recent calculations show that if wildebeest were to be cut off from these critical dry season areas, the population would likely decline from 1.3 million animals to about 200,000," said Dagmar Andres-Brümmer of the Frankfurt Zoological Society (FZS), who have been heavily involved with Tanzania National Parks for over 50 years.
Article continues: http://www.theecologist.org/News/news_round_up/563507/tanzanias_serengeti_highway_plan_could_destroy_major_carbon_sink.html