Massive oil plume discovered in the Gulf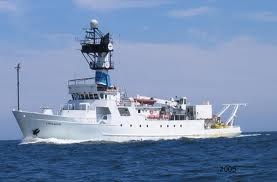 Researchers at the Woods Hole Oceanographic Institution (WHOI) have detected a plume of hydrocarbons that is at least 22 miles long and more than 3,000 feet below the surface of the Gulf of Mexico, a result of the BP Deepwater Horizon oil spill, reports a study published in Science.

The 1.2-mile-wide, 650-foot-high plume of trapped hydrocarbons provides a clue on where all the oil has gone as oil slicks on the surface disappear.
"These results indicate that efforts to book keep where the oil went must now include this plume," said Christopher Reddy, a WHOI marine geochemist and oil spill expert and one of the authors of the study, in a statement.
The findings are based on 57,000 discrete chemical analyses measured in real time using an autonomous underwater vehicle and a type of underwater mass spectrometer known as TETHYS (Tethered Yearlong Spectrometer) during a June 19-28 scientific cruise aboard the R/V Endeavor. The R/V Endeavor is owned by the National Science Foundation (NSF) and operated by the University of Rhode Island.
Article continues: http://news.mongabay.com/2010/0819-oil_plume.html