Why we all need to worry about the decline in native butterflies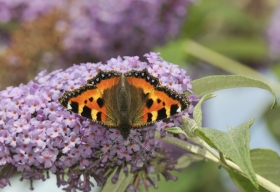 Butterfly populations are an important gauge of the health of local habitats and wider climate change. As families this weekend join the Big Butterfly Count, Faye Dobson explains what population changes mean, and how you can get involved.
Although butterflies may seem like an attractive addition to your flower garden they are a more important insect than most people realise. Acting as a vital wildlife indicator, butterflies can tell us almost everything we need to know about the health of an ecosystem. But from the Meadow Brown to the Swallowtail, British native butterfly species are slowly disappearing.

According to a report by the Dorset-based charity Butterfly Conservation, 72 per cent of butterfly and moth species have declined in the last ten years, and 54 per cent have decreased in the UK. Even the abundance of common garden butterflies, such as the Red Admiral, has dropped by 24 per cent.
Butterflies react extremely quickly to even minor changes in the environment, making them both a good indicator of biodiversity and providing an early warning system for other reductions in wildlife. As a result, they are now the best-monitored group of insects in the world.
But British butterfly numbers have hit an all time low in the last three years due to poor summer weather.
Article continues at ENN affiliate, Ecologist
Butterfly image via Shutterstock