Southwest US Forests could suffer greatly as climate warms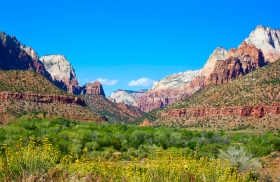 Combine the tree-ring growth record with historical information, climate records, and computer-model projections of future climate trends, and you get a grim picture for the future of trees in the southwestern United States. That's the word from a team of scientists from Los Alamos National Laboratory, the U.S. 
Geological Survey, the University of Arizona, and other partner organizations.
If the Southwest is warmer and drier in the near future, widespread tree death is likely and would cause substantial changes in the distribution of forests and of species, the researchers report this week in the journal Nature Climate Change.
Southwestern forests grow best when total winter precipitation is high combined with a summer and fall that aren't too hot and dry.
The team developed a Forest Drought-Stress Severity Index that combines the amount of winter precipitation, late summer and fall temperatures, and late summer and fall precipitation into one number.
"The new 'Forest Drought-Stress Index' that Williams devised from seasonal precipitation and temperature-related variables matches the records of changing forest conditions in the Southwest remarkably well," said co-author Thomas W. Swetnam, director of the UA Laboratory of Tree-Ring Research.
Zion National Park photo via Shutterstock.
Read more at ScienceDaily.