Polar Ice Update, Record lows in the Arctic, Record Highs in the Antarctic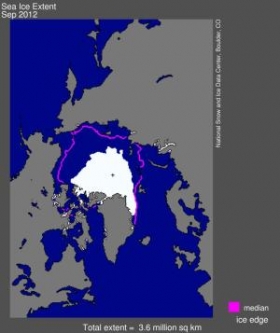 This September, sea ice covering the Arctic Ocean fell to the lowest extent in the satellite record, which began in 1979. Satellite data analyzed by NSIDC scientists showed that the sea ice cover reached its lowest extent on September 16. Sea ice extent averaged for the month of September was also the lowest in the satellite record.
The near-record ice melt occurred without the unusual weather conditions that contributed to the extreme melt of 2007. In 2007, winds and weather patterns helped melt large expanses of ice. "Atmospheric and oceanic conditions were not as conducive to ice loss this year, but the melt still reached a new record low," said NSIDC scientist Walt Meier. "This probably reflects loss of multi-year ice in the Arctic, as well as other factors that are making the ice more vulnerable." Multi-year ice is ice that has survived more than one melt season and is thicker than first-year ice.
As the Arctic was experiencing a record low minimum extent, the Antarctic sea ice was reaching record high levels, culminating in a Southern Hemisphere winter maximum extent of 19.44 million square kilometers (7.51 million square miles) on September 26. The September 2012 monthly average was also a record high, at 19.39 million square kilometers (7.49 million square miles) slightly higher than the previous record in 2006. Temperatures over Antarctica were near average this austral winter. Scientists largely attribute the increase in Antarctic sea ice extent to stronger circumpolar winds, which blow the sea ice outward, increasing extent.
NSIDC scientist Ted Scambos said, "Antarctica's changes -- in winter, in the sea ice -- are due more to wind than to warmth, because the warming does not take much of the sea ice area above the freezing point during winter. Instead, the winds that blow around the continent, the "westerlies," have gotten stronger in response to a stubbornly cold continent, and the warming ocean and land to the north."
Image shows Arctic sea ice extent for September 2012 was 3.61 million square kilometers (1.39 million square miles). The magenta line shows the 1979 to 2000 median extent for that month. The black cross indicates the geographic North Pole. (Credit: NSIDC)
Read more at ScienceDaily.