Breweries Jump on the Sustainability Bandwagon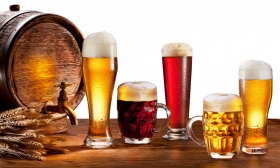 If there is one thing that can unite people across the political spectrum, beer is probably second only to puppies. That's why a new report from the New York-based think tank, A Clean Future, caught our eye. The report is called Leading Sustainability Practices in the Brewing Industry, and on one level, it simply provides a thorough rundown of sustainable practices that have been mainstreamed into the brewing industry, from small craft breweries to global giants like AB-InBev (formerly Anheuser-Busch).
The report can be neatly summed up in one sentence: "The four basic ingredients in beer (water, yeast, malt, hops) directly tie breweries to the environment." The report basically makes the point that breweries are as closely tied to the health of the Earth as farmers, fishers, and anyone else who makes a living directly off the land. It includes an analysis of water use, greenhouse gas emissions, energy, waste management and community relations, and concludes that attending to these factors benefits the bottom line directly while also "elevating brand reputation in the minds of consumers."
The report is especially timely now, as a huge portion of the midwestern U.S. has been caught in the grip of a historic drought, which some have likened to Hurricane Sandy in terms of its impact on local economies. Some of the conservation strategies detailed in the report cut across many industries. These include taking advantage of solar power and other alternative forms of energy, as well as conserving water and upgrading to more energy efficient equipment.
Sustainable building standards can also come into play. One great example is Brewery Vivant in Michigan, which opened in 2010 as the first LEED-certified (silver) microbrewery in the U.S. Sierra Nevada and New Belgium are two other names that readily come to mind when the topic turns to green beer. Sustainable brewing is also beginning to intersect with the emerging green chemistry trend, which seeks natural alternatives to petrochemicals and other toxic or hazardous substances.
Read more at TriplePundit.
Beer image via Shutterstock.