Rise of the Dead in Israel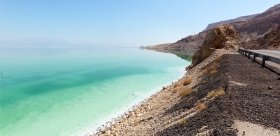 The Dead rose in Israel last week, but it wasn't the Rapture or a zombie apocalypse. Heavy rains caused the Dead Sea to rise by 10 centimeters (4 in.), reported the Times of Israel.
This rise marks the first time the Dead Sea has increased in depth in 10 years. The Sea has dropped by more than 20 meters (66 ft.) since the 1970s, due to industrial projects and the pumping of water from the Sea of Galilee, which in turn reduces the flow of the Jordan River. The Jordan feeds the Dead Sea. The Sea of Galilee rose 70 centimeters (2.3 ft.) in the recent storms.
Studies have found underground springs that feed the Dead Sea as well, but human action may be necessary to keep the Dead Sea from dying. A proposed $9.97 billion project would create a canal between the Red Sea and the Dead Sea. A group of engineering firms presented a draft plan for the Dead Sea life support system to the World Bank last Tuesday, reported Globes. Israel, Jordan and the Palestinian Authority would have to cooperate for the plan to succeed.
The canal would also provide hydroelectric power which would be used to run a massive water desalinization plant. The nation of Jordan would stand to benefit from the plan, the growing population of the landlocked nation suffers from a water shortage.
Link to original article at Discovery News
Dead Sea image via Shutterstock