Air pollution-caused deaths total over one million per year in China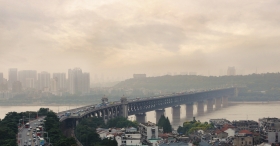 In January, NASA revealed satellite images showing dramatic visuals of air pollution over China. Consequently, a new analysis is reporting that more than 1 million people are dying prematurely every year from air pollution in China alone.
We reported earlier that air pollution, especially around Beijing has greatly been influenced by coal-fired power stations. However, population growth along with increasing development is causing the nation into an air pollution crisis.
"Cars are being added and trucks are being added to the streets in major cities at record numbers. Power plants burn significant amounts of very low-grade coal, and the energy consumption in China is rising dramatically," says Robert O'Keefe of the Health Effects Institute in Boston and presenter of the findings. "This is the highest toll in the world and it really reflects the very high levels of air pollution that exist in China today."
The Chinese population does not need a report to tell them the problems of their air pollution. They see the smog on a daily basis and cannot see buildings across the street on certain high-level days.
In an effort to protect themselves from breathing in this toxic air, many will often wear masks outside. Also, some parents will not let their children play outside.
O'Keefe and other researchers decided to take a closer look at a massive report about the world's health problems that was released in December by the journal The Lancet.
They found that in China, approximately 1.2 million people die prematurely from exposure to outdoor air pollution.
In fact, about two-thirds of all the deaths from air pollution are now occurring in Asia, most of them in China. And air pollution has become the fourth leading cause of death in China.
"For the most part, the air pollution effects are generally manifested in frail populations — people with asthma are generally more susceptible to the effects of air pollution," O'Keefe says. "Also the very young and children who live in highly polluted areas for extended periods of time."
Fortunately, attention is coming to this issue and the fact that the Chinese government is allowing presentation of these findings and is even doing their own air monitoring is a step in the right direction.
"They've put in place ... a nationwide monitoring network that is reporting, in real time, levels of air pollution," O'Keefe says. "So for the first time the Chinese government is providing transparent levels of air pollution that the public can actually see."
For more information, check out NPR.
Air pollution image via Shutterstock.