Sandy's path of destruction felt in the Caribbean too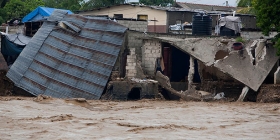 Last year at this time much of the United States eastern seaboard was closely monitoring Super Storm Sandy. Hour by hour people watched with horror as she blew across the Dominican Republic, Haiti, Cuba and the Bahamas ultimately charging up the Atlantic, swinging west to crash into the Mid-Atlantic states at full force. Damage to New York and New Jersey was extensive to be sure, but the larger populations and greater affluence to the north have largely overshadowed recovery of the Caribbean nations.
Without minimizing the suffering of the peoples within the U. S., the people of the Caribbean have also undergone extreme devastation.
"Because of socio-economic vulnerabilities, people in developing countries are often less prepared for a large event and unfortunately are not as quick to bounce back or recover," says Jo Scheuer, Coordinator of Disaster Risk Reduction and Recovery, UN Development Program (UNDP).
Scheuer went on to say, "While the mainland US suffered greater losses in terms of total fatalities and the extent of damage, for the Caribbean nations, Cuba and Haiti in particular, the storm was comparatively more expensive – having a much more profound impact on local livelihoods and the GDP."
Quite simply, humanitarian issues are more exaggerated in Haiti where people are still recovering from the 2010 earthquake.
One of the reasons that less emphasis has been placed on the Caribbean is that over the years these nations have become accustomed to disasters like these thus their losses have been minimized due to basic preparedness measures.
For instance, the UNDP has helped Cuba over the years to get better at preventing hurricane related deaths. This has resulted in better building construction, emergency management plans, etc. Cuba, as a result, has a lower death rate as a result of hurricanes than any of its neighbors.
Because of their island status, the Caribbean nations are more vulnerable to this kind of disaster and the United Nations continues to support efforts to build their resilience. Ongoing projects include more hurricane resistant construction, sea walls, flood barriers and income generating measures to boost their economic situation.
But their ongoing vulnerability deserves our attention and support.
Read more at the U.N. News Centre.
Bahamas Damage via Today's Zaman.