Mangroves Shift North along Florida's Coast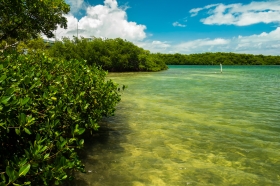 New analysis of 28-years of satellite imagery has shown that mangrove forests have been expanding northward along the Atlantic coast of Florida for the last few decades.
While one might assume that this may be occurring because of a general warming trend, researchers are claiming that this northern expansion is likely because cold snaps there are becoming a thing of the past. 
Study lead author Kyle Cavanaugh, a postdoctoral researcher at Brown University and at the Smithsonian Institution states: "One unique aspect of this work is that we were able to use this incredible time series of large-scale satellite imagery to show that this expansion is a regional phenomenon. It's a very large-scale change."
Cavanaugh and his colleagues tested various hypotheses by correlating the satellite observations with reams of other data. What emerged from their tests of statistical significance was the area's decline in the frequency of days where temperature dips below minus 4 C (25 F). That, not coincidentally, is a physiological temperature limit of mangrove survival.
For the analysis, the research team had to rule out increases in mean annual or winter temperatures as well as changes in precipitation and changes in nearby urban and agricultural landcover. They also ruled out sea level rise.
Instead seemingly subtle differences from 1984 through 2011 of just 1.4 fewer days a year below 25 F in Daytona Beach or 1.2 days a year in Titusville appear to explain as much as a doubling of mangrove habitat in those areas.
As a result of the mangroves' northern expansion, Cavanaugh says, "The mangroves are expanding into and invading salt marsh, which also provides an important habitat for a variety of species."
The next question is to understand how these changes affect the lives and interactions of the species in each ecosystem.
The findings are published in the Proceedings of the National Academy of Sciences.
Read more at Brown University.
Mangroves along coast image via Shutterstock.