"Phosphate free for all" from P & G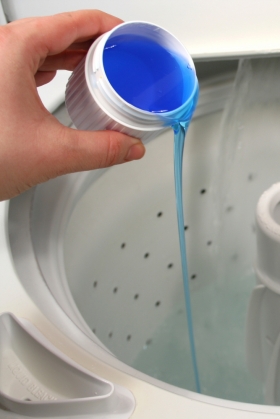 Consumer product giant Procter & Gamble has announced that it will eliminate phosphates from all of its laundry detergents worldwide within the next two years. The change applies to brands including Tide, Ariel, Ace and Bonux, and will maximize the conservation of precious resources and reduce the threat of water pollution.
Phosphate is a naturally occurring mineral that is mined from rocks but based on the current rate of consumption its reserves will begin to become depleted within the next 30 years.
The compound has been blamed in the UK for an increase in poor water quality as it leads to algae growth. Algae prevent light reaching through the water and use up oxygen, causing a decline in the health of the water environment.
Phosphate is added to laundry detergents to soften the water and to hold dirt in the wash water. The usual alternative to phosphate is zeolite, which is environmentally friendly and does not contribute to nutrient pollution. 
Over the last few years, water companies have installed phosphate removal facilities at its larger sewage treatment plants. However, small private sewage treatment plants, while still treating sewage adequately, allow phosphate to pass directly into ditches and rivers.
In a statement, Gianni Ciserani, Group President of Global Fabric and Home Care at P&G, said: "Our strong commitment to innovation, research and development has allowed us to improve the performance of our laundry products while also eliminate phosphates. We believe that action speaks louder than words in the area of sustainability. Through hard work and commitment, we are continuously innovating to make it easier to care for the world on wash day. P&G has been gradually reducing the consumption of Phosphates since 2005. By the time the laundry reformulations are fully implemented, P&G will have eliminated close to half a million metric tons per year compared to its peak consumption during calendar year 2005."
Ciserani added: "This is just the start of a series of solutions we are developing to make it easier for people to make a small change that can have a positive impact on our world – for a cleaner today and a brighter tomorrow."
Read more at ENN affiliate Click Green.
Laundry detergent image via Shutterstock.