Sawdust Reinvented Into Super Sponge for Oil Spills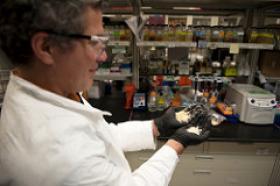 Lowly sawdust, the sawmill waste that's sometimes tossed onto home garage floors to soak up oil spilled by amateur mechanics, could receive some new-found respect thanks to science.
Researchers at the Department of Energy's Pacific Northwest National Laboratory have chemically modified sawdust to make it exceptionally oil-attracting and buoyant, characteristics that are ideal for cleaning oil spills in the icy, turbulent waters of the Arctic. The nontoxic material absorbs up to five times its weight in oil and stays afloat for at least four months.
"Most of today's oil remediation materials are designed for warm water use," said PNNL microbiologist George Bonheyo, who leads the modified sawdust's development from PNNL's Marine Sciences Laboratory.
"But as ice retreats in the Arctic Sea, fossil fuel developers are looking north, and we need new oil spill response methods that perform well in extreme conditions," added Bonheyo, who also holds a joint appointment in bioengineering with Washington State University.
"The chance of an oil spill in the Arctic is real," said fellow PNNL microbiologist Robert Jeters, who is also part of the project. "We hope materials like our modified sawdust can help if an accident happens."
SEE THE VIDEO: https://www.youtube.com/watch?v=DWb6dz_tzfg
Fire & ice
Containing oil spills in cold waters is especially tricky, as bobbing ice chunks push oil below the water's surface, making it difficult to collect. The same goes for rough waters, whose tall, clashing waves disperse oil.
The modified saw dust pulls double duty. Beyond absorbing oil, it also enhances another approach to combatting oil spills – controlled burns. If changing weather or tides move spilled oil toward a sensitive area fast, oil can be burned before it can cause further harm. Called in-situ burning, the practice can significantly reduce the amount of oil in water and minimize its adverse environmental effects.
Bonheyo and his team looked to develop an environmentally friendly and inexpensive material that floats despite rough or freezing waters and can support in-situ burning. Not wanting to create more pollution if emergency responders can't retrieve oil cleanup material, Bonheyo's team considered other natural ingredients like rice hulls and silica. But they ultimately found their winner in a fine dust called wood flour. A woodworking byproduct, wood flour is often used to make wood composites.
Continue reading at Pacific Northwest National Laboratory.
Image courtesy of Pacific Northwest National Laboratory via Flickr.