Climate change prompts Alaska fish to change breeding behavior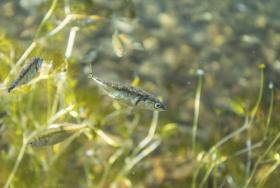 One of Alaska's most abundant freshwater fish species is altering its breeding patterns in response to climate change. This could impact the ecology of northern lakes, which already acutely feel the effects of a changing climate.
That's the main finding of a recent University of Washington study published in Global Change Biology that analyzed reproductive patterns of three-spine stickleback fish over half a century in Alaska's Bristol Bay region. The data show that stickleback breed earlier and more often each season in response to earlier spring ice breakup and longer ice-free summers.
While several papers have speculated that conditions brought on by a warming climate may allow animals to breed more often in a single year, this has only been empirically shown in insects. This study is the first to document multiple breeding cycles for fish in a single season due to climate change, said lead author Rachel Hovel, a postdoctoral researcher in the UW's School of Aquatic and Fishery Sciences.
"The exciting thing about this paper is that it shows, for the first time, the emergence of multiple breeding in a vertebrate as a response to climate change," Hovel said. "Climate change literature features many predictions and vulnerability assessments, but we don't have many opportunities to actually observe species' responses over time, as this is very data-intensive. Our ability to detect multiple breeding in fish is attributed to our comprehensive and high-quality long-term dataset."
Continue reading at University of Washington
Photo: Three-spine stickleback are abundant in Alaska's freshwater lakes.
Photo Credit: Jason Ching / University of Washington