'Resurrecting' tiny lake-dwelling animals to study evolutionary responses to pollution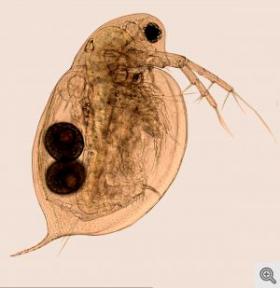 A University of Michigan biologist combined the techniques of "resurrection ecology" with the study of dated lake sediments to examine evolutionary responses to heavy-metal contamination over the past 75 years.
To accomplish this, Mary Rogalski hatched long-dormant eggs of Daphnia, tiny freshwater crustaceans also known as water fleas, that accumulated in the lake sediments over time.
After rearing the critters in the lab, she exposed them to various levels of two heavy metals to see how their sensitivity to the environmental contaminants changed over time. Surprisingly, she found that sensitivity to copper and cadmium increased as the levels of those toxic metals rose in the lakes she studied.
"These findings are unexpected because evolutionary theory predicts that a population should adapt quickly to a stressor like this and become less sensitive to it, not more sensitive to it. It is difficult to explain the results of this study," said Rogalski, a postdoctoral researcher in the U-M Department of Ecology and Evolutionary Biology.
Read more at University of Michigan
Photo credit: Eric Lazo-Wasem