Iron dissolved by air pollution may increase ocean potential to trap carbon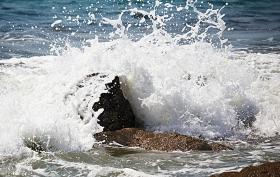 Iron particles generated by cities and industry are being dissolved by man-made air pollution and washed into the sea – potentially increasing the amount of greenhouse gases that the world's oceans can absorb, a new study suggests.
Scientists have long believed that acids formed from human-generated pollution and natural emissions dissolve iron in airborne particles - increasing the amount of iron to the ocean – but have lacked direct evidence to prove this theory.
Now, iron-rich particles from steel manufacturing and coal burning, collected in the East China Sea, have been found to have a thick sulphate coating containing soluble iron that provides the 'smoking gun' to prove the theory of acid iron dissolution.
Scientists at the University of Birmingham (UK) and Shandong University (China) led an international research partnership with counterparts from universities in US and Japan. The work was funded by the Natural Science Foundation of China and the UK's Natural Environmental Research Council. The team published their findings in Science Advances.
Read more at University of Birmingham
Photo via University of Birmingham