Groundwater pumping drying up Great Plains streams, driving fish extinctions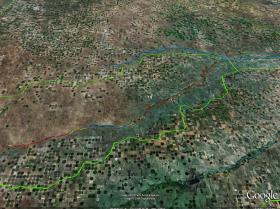 Farmers in the Great Plains of Nebraska, Colorado, Kansas and the panhandle of Texas produce about one-sixth of the world's grain, and water for these crops comes from the High Plains Aquifer — often known as the Ogallala Aquifer — the single greatest source of groundwater in North America. A team of researchers, including Colorado State University Professor Kurt Fausch and Jeff Falke, a CSU alumnus and an assistant professor at the University of Alaska Fairbanks, have discovered that more than half a century of groundwater pumping from the aquifer has led to long segments of rivers drying up and the collapse of large-stream fishes.
If pumping practices are not modified, scientists warn that these habitats will continue to shrink, and the fish populations along with them.
The research team combined modeling from the past and future to assess changes in Great Plains streams and their fish populations associated with groundwater pumping from the High Plains Aquifer. The findings have implications for watersheds around the world, because irrigation accounts for 90 percent of human water use globally, and local and regional aquifers are drying up.
A 'train wreck'
Fausch said the study results are sobering. Based on earlier observations and modeling by Falke and a team of graduate students and faculty at CSU, the Arikaree River in eastern Colorado, which is fed by the aquifer and used to flow about 70 miles, will dry up to about one-half mile by 2045.
"You have this train wreck where we're drying up streams to feed a growing human population of more than 7 billion people," Fausch said.
Continue reading at Colorado State University
Image: A Google Earth image of the crop circles in the lower Arikaree River watershed, highlighting the river reaches that were dry (red), disconnected pools (yellow), and flowing (blue) at the lowest water in late summer 2007. Only one segment of 9 miles of flowing river remained as habitat for fish. The river flows from left to right. Image created by Jeff Falke, University of Alaska Fairbanks. (Credit: Google Earth)