Getting to the roots of Sahara mustard invasion in the American Southwest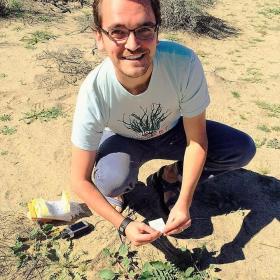 In 2015, a rural community in southeastern California approached Daniel Winkler and his doctoral advisor, Travis Huxman, for help with an invader that was hurting their local economy. An Old World annual plant called Sahara mustard (Brassica tournefortii) was spreading rapidly through the deserts of the southwestern U.S., carpeting the local Anza-Borrego Desert in spring, and smothering the native wildflowers that draw tourists to the region. Loss of native plants put the animals that depend on them for food and shelter at risk. The mustard was disrupting the entire desert ecosystem.
The Tubb Canyon Nature Conservancy asked Winkler to take on a project to learn what enabled Sahara mustard to adapt so successfully — and, hopefully, gain insight into how to stop it. Winkler will report his findings on August 11, at the Ecological Society of America's 2017 Annual Meeting in Portland, Oregon.
"In 2015 I went on the greatest American road trip — 5000 miles of highway, dirt roads, and trails — to visit over 50 sites in California, Arizona, New Mexico, Texas, Utah, and Nevada, the current range of Sahara mustard in the U.S.," said Winkler. He collected 2,000 leaf samples and up to a million seeds.
The project was a good fit for Winkler, who was already studying native flowers in the Sonoran. It also benefited from his years working at the U.S. Bureau of Land Management and the Fish and Wildlife Service prior to pursuing a doctoral degree in ecology. His collection road trip included stops at ten national parks and monuments. He collaborated with park managers, citizen scientist programs, and volunteer groups to obtain samples.
Read more at Ecological Society of America
Image: Daniel Winkler collects plant tissue samples for genomic analyses to uncover the spread of the invasive Sahara mustard in Anza-Borrego Desert State Park, California in February 2015. (Credit: Susan Gilliland)