3-D Models Help Scientists Gauge Flood Impact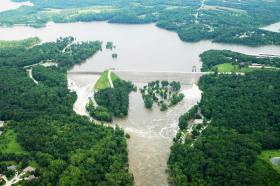 Heavy rainfall can cause rivers and drainage systems to overflow or dams to break, leading to flood events that bring damage to property and road systems as well potential loss of human life.
One such event in 2008 cost $10 billion in damages for the entire state of Iowa. After the flood, the Iowa Flood Center (IFC) at the University of Iowa (UI) was established as the first center in the United States for advanced flood-related research and education.
Today, simplified 2-D flood models are the state of the art for predicting flood wave propagation, or how floods spread across land. A team at IFC, led by UI Professor George Constantinescu, is creating 3-D non-hydrostatic flood models that can more accurately simulate flood wave propagation and account for the interaction between the flood wave and large obstacles such as dams or floodplain walls. These 3-D models also can be used to assess and improve the predictive capabilities of the 2-D models that government agencies and consulting companies use for predicting how floods will spread and the associated risks and hazards.
Read more at DOE / Oak Ridge National Laboratory
Image: The Coralville Dam on the Coralville Lake, overflowing into its spillway during the Iowa Flood of 2008. The flood cost $10 billion in damages for the entire state of Iowa, due to the overflowing of the Iowa and Cedar Rivers. After the flood, the Iowa Flood Center at the University of Iowa was established for flood-related research. Image Credit: United States Army Corps of Engineers