Destruction of small wetlands directly linked to algal blooms in Great Lakes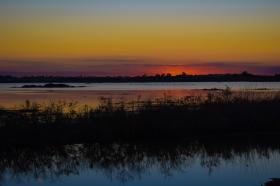 Canada's current wetland protection efforts have overlooked how the environment naturally protects fresh-water resources from agricultural fertilizer contaminants, researchers from the University of Waterloo have found.
In a recent study, researchers at Waterloo's Faculty of Science and Faculty of Engineering found that small wetlands have a more significant role to play than larger ones in preventing excess nutrients like nitrogen and phosphorus from fertilizer from reaching waterbodies such as the Great Lakes.
Excess nutrients are a primary cause of algal blooms, which have a number of impacts, including impairing drinking water quality, robbing aquatic life of needed oxygen and closing beaches to swimming.
"With agriculture and urbanization, Canada has lost a huge portion of its wetlands, which have had a number of environmental impacts," said Nandita Basu, an associate professor of civil and environmental engineering. "While we have made some progress in protecting larger wetlands that act as habitat for wildlife, we have been less successful in protecting smaller ones that continue to be removed to make way for things such as new housing subdivisions.
Read more at University of Waterloo
Image via Pixabay