An important process that fuels harmful algal blooms investigated in water bodies across Canada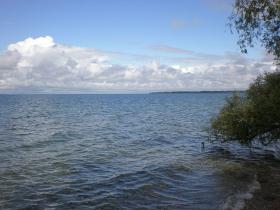 For many Canadians, summer time means time at the lake, swimming, fishing, boating, and relaxing. Nothing can spoil this experience like blue-green mats of muck, caused by algal blooms. These blooms negatively affect not only recreational activities but also put drinking water source, property values, wildlife, and human health at risk. In the 1970s, scientists discovered that the nutrient phosphorus caused algal blooms, which led to new regulations and improved sewage treatment. Nevertheless, blooms continue to plague many Canadian lakes. To investigate what might be happening, scientists looked to see whether phosphorus might be recirculating from the mud at the bottom of lakes back into the water.
In a new scientific study published today, scientists investigated an important, but poorly understood, process in Canada's aquatic ecosystems: the recycling of the algal nutrient, phosphorus, between mud at the bottom of lakes and the overlying water. This process can contribute to the formation of the harmful algal blooms that plague many lakes. Across the country tens or even hundreds of millions of dollars are invested every year to manage nutrient pollution but in some lakes legacy effects from nutrients deposited years ago can linger and delay recovery.
"Our main goal was to better understand where, when, and why this process occurs in Canadian fresh waters so that we can make improvements to how algal blooms are managed and develop realistic goals for lake restoration," explained lead author Diane Orihel, an assistant professor at Queen's University. She added, "we need to stop dumping phosphorus into our lakes, because it's not only causing problems right now, but in many lakes, it continues to deteriorate water quality for our children and grandchildren."
Read more at Canadian Science Publishing
Photo credit: Bosintang via Wikimedia Commons