IU discovery could reduce nuclear waste with improved method to chemically engineer molecules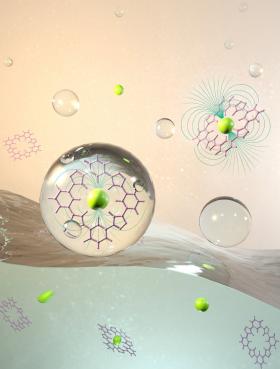 A discovery by Indiana University researchers could advance the long-term storage of nuclear waste, an increasingly burdensome and costly task for the public and private agencies that protect people from these harmful chemicals.
In a study published today, the scientists report they have developed a new chemical principle with the potential to revolutionize the creation of specially engineered molecules that extract radioactive elements from nuclear waste, significantly reducing the volume of these dangerous materials. The method is also applicable to molecules created to extract chemical pollutants from water and soil.
"This work represents a major step forward in the effort to engineer specially designed nanostructures by providing a new, highly accurate method to predict how these molecules will behave in solution," said lead author Amar Flood, a professor in the IU Bloomington College of Arts and Sciences' Department of Chemistry.
Continue reading at Indiana University
Graphics: A triazolophane molecule with chloride in the center suspended inside a liquid solution. A similar image appears on the cover of the Sept. 14 issue of the journal CHEM.
Credit: Yun Liu and Danny McMurray, Indiana University