Scientists and Farmers Work Together to Wipe Out African Lovegrass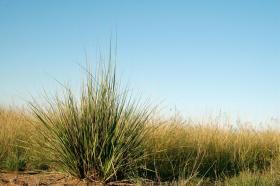 A partnership between QUT, the NSW Government and farmers could lead to the eventual eradication of the highly invasive African lovegrass which is threatening pastures and native grasslands Australia-wide.
What they discovered is that local knowledge is the key to a successful management approach.
The results of a research project by Associate Professor Jennifer Firn from QUT's School of Earth, Environmental and Biological Sciences, Emma Ladouceur from Italy's University of Pavia and Dr Josh Dorrough from the NSW Office of Environment and Heritage, have been published in the esteemed international Journal of Applied Ecology.
"The impact of invasive non-native plant species like African lovegrass is increasing dramatically," said Professor Firn, who has previously tested control methods for the grass in southern Queensland.
Read more at Queensland University of Technology
Image: Highly invasive African lovegrass is threatening pastures and native grasslands Australia-wide. (Credit: QUT Marketing & Communication)