Study Finds Tropical Forests Are No Longer Carbon Sinks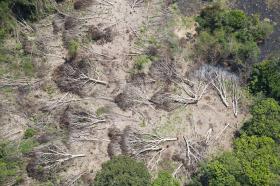 Tropical forests have long been considered one of the world's most important tools in combating climate change, their fast-growing trees and rich soils sucking millions of tons of carbon out of the atmosphere every year. But a new study says these forests have switched from being carbon sinks to sources of carbon, releasing an estimated 425 million tons of CO2 each year, more than the annual emissions from U.S. cars and trucks combined.
The reversal, the study says, is the result of worsening deforestation and a reduction in the density, or a thinning, of tropical forests.
Continue reading at Yale Environment 360
Image: An area of recently cut Amazon rainforest in northern Brazil. Credit: DANIEL BELTRÁ / GREENPEACE