Heating Dirt Could Cause a Runaway Rise in Carbon Emissions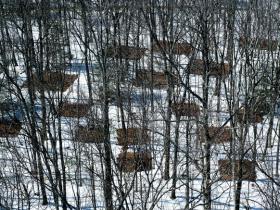 Tucked into the apple-growing hills of Western Massachusetts is the Harvard Forest, a 3,700-acre wooded preserve that hosts school kids on field trips, day-tripping hikers, and, for more than a quarter century, a highly unusual science experiment.
For the past 26 years, strings of subterranean electrical wires have heated segments of the forest floor to an unnatural temperature. It's the longest running experiment of its kind, and a time machine of sorts—a way for ecologists to study how the soil will respond to changes in global temperatures, which are projected to rise an estimated 5 degrees Celsius (9 degrees Fahrenheit) by the end of the century. The world's soils are important because they contain two to three times more carbon than the atmosphere. Now, results from this experiment have shown that rising temperatures could cause the soil to release that carbon, accelerating global warming in a reinforcing feedback loop.
But before we get to that, a quick explainer: Plants take in carbon dioxide during photosynthesis. Bacteria and fungi release it as they break down dead leaves, branches, and other materials that fall to the ground. As the microbes warm up, they break down material faster, which in turn releases more CO2 into the atmosphere.
Read more at Wired
Image: Heated and control plots in a long-term soil warming study at Harvard Forest, Petersham, Mass. Jerry Melillo of the Marine Biological Laboratory, Woods Hole, Mass., and colleagues began the study in 1991. (Credit: Audrey Barker-Plotkin)