How to Help Californians Affected by the North Bay Wildfires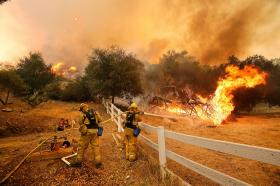 Fast-moving wildfires are devastating parts of Northern California, including Sonoma and Napa Counties, just north of the Bay Area. Victims — and their animals — displaced by evacuation orders and property loss need your help.
WHAT TO KNOW:
California Governor Jerry Brown has declared states of emergencies in Napa, Sonoma and Yuba counties, making them eligible for emergency funding assistance. October is the end of the dry season in California, which can make wildfires particularly dangerous — especially when paired with high winds.
While many of the areas affected are rural, the city of Santa Rosa in Sonoma County has 175,000 residents and serves as a regional medical center for neighboring counties. Though Sonoma and Napa Counties have relatively healthy economies, 22 percent of Yuba County residents live below the poverty line, as do 20 percent of Mendocino County residents, who are also affected by the fires.
Continue reading at ENN affiliate, Care2
Photo Credit: Daria Devyatkina / Flickr