Warming Seas Could Lead to 70 Percent Increase in Hurricane-related Financial Loss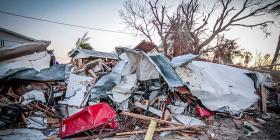 If oceans warm at a rate predicted by the Intergovernmental Panel on Climate Change, the United Nation-sponsored group that assesses climate change research and issues periodic reports, expected financial losses caused by hurricanes could increase more than 70 percent by 2100, according to a University of Vermont study just published in the journal Sustainable and Resilient Infrastructure.
The finding is based on the panel's most severe potential climate change scenario – and resulting increased sea surface temperature – and is predicted at an 80 percent confidence level.
The results of the study, which focused on 13 coastal counties in South Carolina located within 50 miles of the coastline, including the most populous county, Charleston, are drawn from a model simulating hurricane size, intensity, track and landfall locations under two scenarios: if ocean temperatures remain unchanged from 2005 to 2100 and if they warm at a rate predicted by the IPCC's worst-case scenario.
Read more at University of Vermont
Photo: A trailer in Marathon, Florida, the most populated island in the Florida Keys, was destroyed by Hurricane Irma. A new UVM study projects that financial loss could increase more than 70 percent by 2100 if oceans warm at a rate forecast by the Intergovernmental Panel on Climate Change under the panel's worst-case scenario. (Credit: Zak Bennett)