Climate-influenced changes in flowering, fruiting also affect bird abundance, activities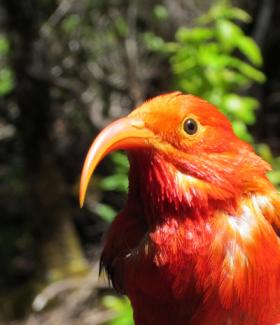 "You are what you eat" might give way to "you are when you eat," based on a new study tracking shifts in Hawaiian bird abundance, breeding and molting based on climate-related changes to native vegetation.
Researchers with the U.S. Forest Service's Pacific Southwest Research Station recently reviewed extensive climate, vegetation and bird data collected between 1976 and 1982 at a 40-acre monitoring site about 5 miles outside Hawai'i Volcanoes National Park on Hawai'i Island. Their results, "Bottom-up processes influence the demography and life-cycle phenology of Hawaiian bird communities," were published in this month's issue of Ecology and has implications for future bird population stability in future projected climates.
"The susceptibility of many Hawaiian birds to climatically-induced changes in their food web is alarming when considering that the archipelago has been subject to an increasingly drier climate during the last 30 years," said Jared Wolfe, a research ecologist and lead author of the study.
Read more at Pacific Southwest Research Station - Forest Service
Image Credit: U.S. Forest Service / Amanda Uowolo