Research shows ice sheets as large as Greenland's melted fast in a warming climate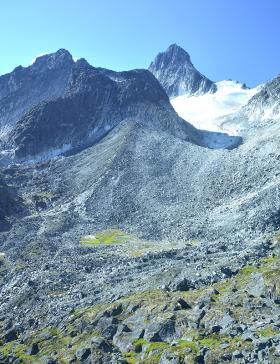 New research published in Science shows that climate warming reduced the mass of the Cordilleran Ice Sheet by half in as little as 500 years, indicating the Greenland Ice Sheet could have a similar fate.
The Cordilleran Ice Sheet covered large parts of North America during the Pleistocene - or last ice age - and was similar in mass to the Greenland Ice Sheet. Previous research estimated that it covered much of western Canada as late as 12,500 years ago, but new data shows that large areas in the region were ice-free as early as 1,500 years earlier. This confirms that once ice sheets start to melt, they can do so very quickly.
The melting of the Cordilleran Ice Sheet likely caused about 20 feet of sea level rise and big changes in ocean temperature and circulation. Because cold water is denser than warm water, the water contained by ice sheets sinks when it melts, disrupting the "global conveyor belt" of ocean circulation and changing climate.
Continue reading at Purdue University
Photo: Unvegetated terminal moraine from Nahanni National Park, NWT, Canada dating to the end of the last ice age (about 13,800 years ago).
(Photo by Brian Menounos, University of Northern British Columbia)